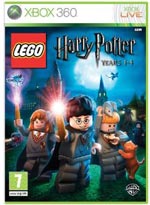 Lego Harry Potter is available to preorder today from Amazon. At the time of writing, the XBox360 version is priced at £34.93. The price of this item is likely to increase but you're guaranteed to get it at this price if you preorder today. If the price does go down you pay the lower price.
Lego Harry Potter Years 1 to 4 is due to be released on 25 June 2010 and is available from amazon.co.uk in the following formats: Xbox 360
, Wii
, PS3
, Nintendo DS
, Sony PSP
and PC DVD
.
Don't forget to drop by to the main ToyandGameReviews pages for toys and games, toy reviews, toy bargains and toy price comparison. While you're there, why not submit a toy review or two yourself?