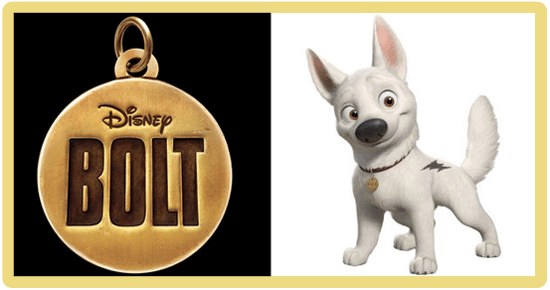 There's a chance you've heard of Bolt, the new film from Walt Disney Pictures starring John Travolta and Miley Cyrus (AKA Hannah Montana). Although we can forgive you if you haven't heard of it, any kids you know will surely not. So why not redeem yourself by taking them to see the movie about the not-so-genetically enhanced television superdog and his adventures beyond the only world he knows... the studio.

Then check out the amazing new range of toy tie-ins from Vivid Imaginations Ltd such as the plush character figures and the Mini-Figure collectables.

Also consider the hysterical hamster, and Bolt's number 1 fan Rhino in his very own hamster ball. This excellent toy is priced around a tenner and so would also make a great birthday gift for your kids to take to a friend's birthday party.

To return to main Disney page click here:



Toys
Go ape on the race track with Mario Kart 7's Donkey Kong and his Bolt Buggy Building Set. You get everything you need to create a tank like kart and Kong figure, just like in the smash hit Nintendo video game. An iconic Golden Mushroom item is

£13.00
More Information

Childrens non slip bedroom rug with Cinderella, Sleeping Beauty and The Little Mermaid centred in a jewelled love heart. . All of our XXL bedroom rugs come with non slip backing which are great for any type of flooring. . We have a wide range of avai

£19.95
More Information

Hearts of dreams toy box with the beautiful princesses Sleeping Beauty, Cinderella and Belle.. This toy box is made from solid MDF and measures 60 x 30 x 32.5cm.. . Disney Princess Toy Box. Measures W60 x 30 x 32.5cm. Made from Strong 9mm MDF. Suitab

£44.95
More Information

Kids Bins. Girls easy to clean metal bin shows the beautiful Princesses Ariel, Cinderella, Sleeping Beauty and Snow White. . . To view our wide range of Disney Princess bedding sets, curtains and accessories . . Disney Princess Bin. Measures 26 x 23

£6.95
More Information

This extra large Disney Cars rug is fun and interactive with images of a racetrack and Lightning McQueen.. Bedding and accessories are also available from our range.. . Disney Cars XXL Rug. Measures 95cm x 133cm. 100% Polyamide. Non Slip Backing . .

£22.95
More Information

Childrens brand new Disney Cars toy storage box with black detailing and vibrant printed panels showing Lightning McQueen.. The toy box is made from strong and sturdy MDF and requires adult self assembly.. To view the full range of character and gene

£44.95
More Information

Blue, Disney Cars Toy box featuring some of our favourite characters from the two movies. With images of Lightning McQueen and Mater from the first movie, and Finn McMissile from the second movie this toy box is sure to be a hit in their bedroom.. Ma

£46.95
More Information

Come and join Cinderella, Ariel and their friends in this beautiful wooden lift out puzzle.

£7.00
More Information

Create a Disney Princess puzzle and then store is all away in the beautiful storage tin.

£9.00
More Information

Join Carl and Russell on a high flying adventure based on the Disney Pixar movie Up.When Carl's house takes to the skies, it's up to you to guide Russell and Carl on their soaring journey. Along the way, use your maths and reasoning skills.Teaches ea

£20.00
More Information
Brilliant Super Mario Galaxy 2 Free Figure Offer from ToysRUs
Bikes and accessories for the whole family – bank holiday discounts at Halfords
Incredible Lego Video Game savings available from Amazon UK now
Christmas 2010 is almost here – Got your Paper Jamz in yet?
In the Night Garden Live touring UK cities this summer
JLS dolls coming soon
Tron Legacy Toys are here – anyone for light cycles?
John Lewis present a selection of their favourite toys for Christmas 2009…
Play.com Deal of the Day is Coraline – coming soon to DVD in 2D or 3D…
Pokemon XY 4 Figure Gift Pack Mewtwo Litleo Umbreon Wobbuffet
Vtech Media Desktop
MB Games Monkey Madness