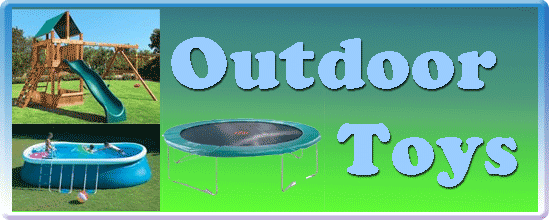 Well Summer is upon us allegedly, and it's time to begin thinking of ways to get the kids to enjoy a bit of fresh air and having fun.

Perhaps the old bike has finally rusted beyond repair in the garage all winter and it's time for a new one? They'd love to swing from the monkey bars or take a dip in the cool water of their very own paddling pool on a warm summer afternoon. Or maybe a game of football in the backgarden would benefit with proper goals. Whatever you're after, you're sure to find it by choosing one of our categories below or you can browse using the search box above.




Toys
Brilliant Super Mario Galaxy 2 Free Figure Offer from ToysRUs
Bikes and accessories for the whole family – bank holiday discounts at Halfords
Incredible Lego Video Game savings available from Amazon UK now
Christmas 2010 is almost here – Got your Paper Jamz in yet?
In the Night Garden Live touring UK cities this summer
JLS dolls coming soon
Tron Legacy Toys are here – anyone for light cycles?
John Lewis present a selection of their favourite toys for Christmas 2009…
Play.com Deal of the Day is Coraline – coming soon to DVD in 2D or 3D…
Pokemon XY 4 Figure Gift Pack Mewtwo Litleo Umbreon Wobbuffet
Vtech Media Desktop
MB Games Monkey Madness